Understanding which social media dashboard best suits your business or personal needs can take time and effort. But fear not: with our 2023 pricing comparison guide, you can quickly and easily compare the top social media dashboards to make a well-informed decision. Having all your social media accounts connected on one dashboard can be invaluable to businesses seeking to leverage the power of social networking. Not only can it provide a better view of your brand's presence, but it also streamlines daily tasks and makes tracking analytics easier. Discover how having a social media dashboard can help you manage platforms, gain insights, and boost marketing efforts. This blog post contains internal links to our product store page and Clarus Creative affiliate links with our affiliate partners.
What is a Social Media Dashboard?
A social media dashboard is a centralized hub used to manage and monitor your brand's social media accounts in one place. It allows you to access, analyze, post, and view all of your accounts on multiple platforms such as Twitter, Instagram, Facebook, Snapchat, etc. from one unified location. Not only does this save time but it also provides an organized way to streamline marketing strategies and track metrics for each platform.
Social Media Dashboard Features and Benefits
Comparisons of social media dashboards begin with assessing the features and benefits of each one. Make sure to consider your own needs when looking at the different options. Does it have the ability to manage multiple accounts easily? Can you schedule content in advance? Does it track metrics, offer analytics and reporting, allow following/unfollowing, bulk message sending, keyword tracking, analytics breakdowns, reporting tools, integrated customer service modules, and more? With the right combination of features, you can develop an effective strategy to engage with customers and measure your success across all platforms in one place.
Additionally, looking at customer reviews and feedback is essential to understand how the platform works in practice. Undoubtedly, these are just some things that you'll want to consider when comparing different products' features and benefits.
Comparing Prices and Plans
When considering which dashboard to use, you'll want to compare the pricing and plans of the top options. Not all social media dashboards offer the same features, so it's important to research which ones have what you're looking for and see which provides the best value. Make sure to pay not just by looking at upfront costs but also any additional fees or subscription charges that could be incurred over time. This pricing comparison chart shows some of the many popular social media dashboard platforms on the market from low-priced to high-priced.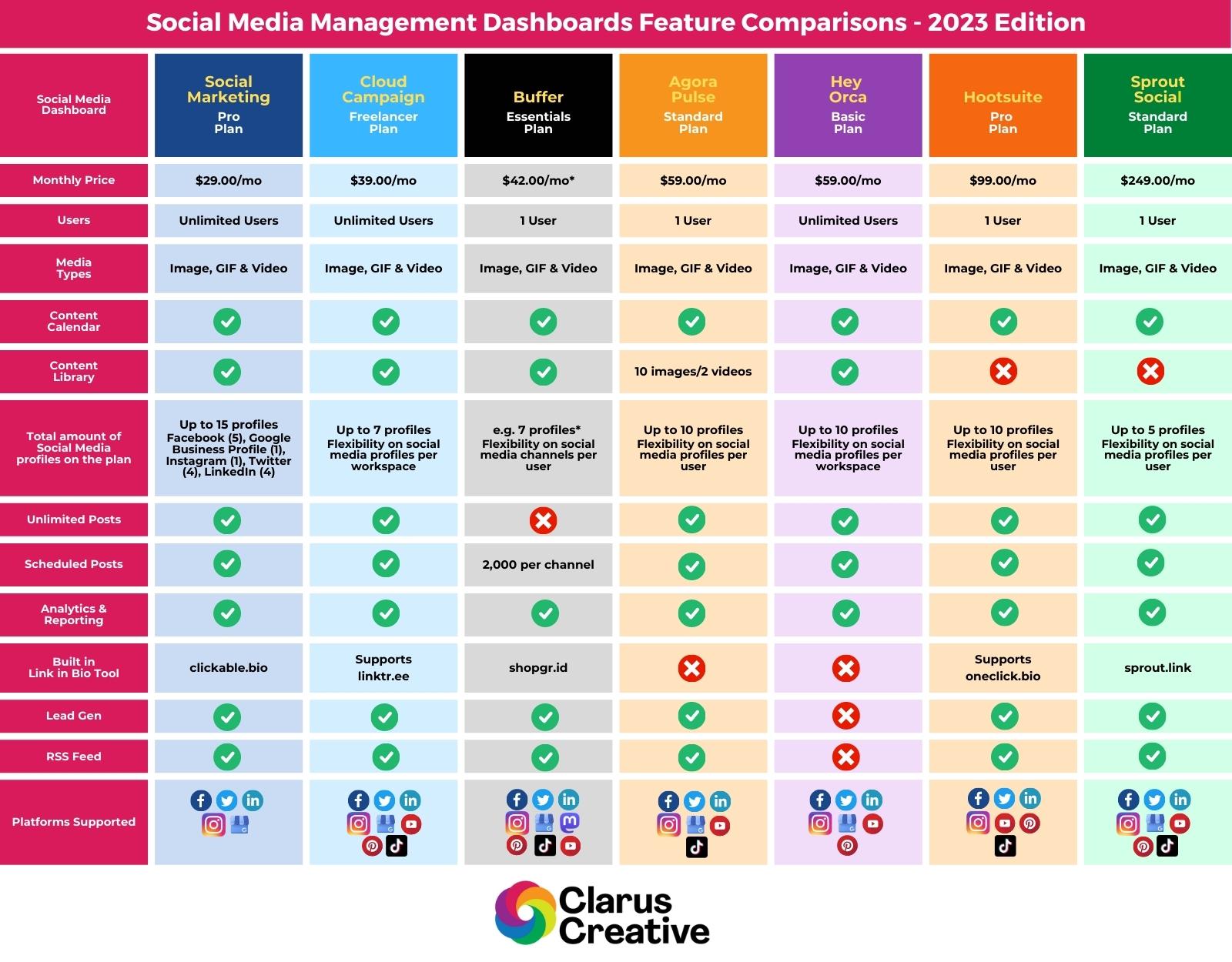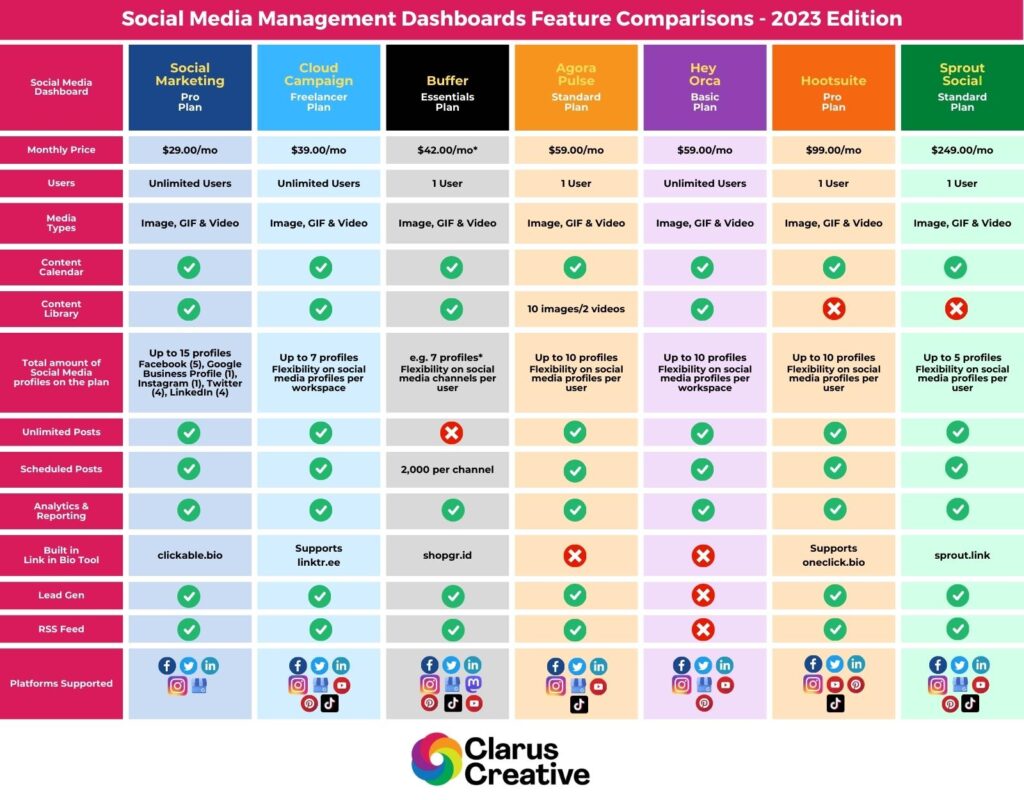 Find The Best Social Media Platform For Your Needs
When determining what platform best suits your social media needs, you'll want to consider the platforms that work best with the content you plan to create. Many social media dashboards have platform integrations so you can quickly and easily connect to your accounts. Make sure to look at the features offered by each platform and decide which ones are right for you. Some features you may want to consider include scheduling posts, tracking analytics, monitoring conversations, and creating content libraries. Additionally, some platforms offer additional features, such as influencer marketing and customer service tools. Additionally, check out reviews written by people who have used these solutions to get an unbiased opinion.
Look into Integrations and Connectors
When looking into different social media dashboards, it's important to consider the integrations and connectors they offer. These tools allow you to seamlessly connect your platform with services like Cloud Campaign, Hootsuite, or Buffer. This helps to streamline your workflows and make it easier for you to post content across multiple channels quickly and easily. Additionally, look for dashboards that offer analytics and reporting capabilities. This will help you track your campaigns' performance and better understand how your content is resonating with your audience. Finally, consider the user interface of the dashboard. Make sure it's intuitive and easy to quickly find what you need without searching. Additionally, some platforms will also offer specialized connectors for other popular platforms such as Pinterest, YouTube, and Instagram.
Tool #1 Social Marketing Pro
Social Marketing Pro, available on the Business Center provided by Clarus Creative, is an all-in-one dashboard for businesses of all sizes to effectively manage their social media presence. This platform offers various features, including content creation, scheduling, and publishing across multiple social networks. Social Marketing Pro also includes detailed analytics and reporting to track campaign performance and understand customer engagement. The tool's automated response and customer segmentation features help businesses engage with customers more efficiently. A unique feature of Social Marketing Pro is that it offers a link in bio called "clickable bio" to redirect page visitors to a customizable landing page for Instagram, making it easier for businesses to direct their followers to their desired content. A NEW Social Marketing Pro feature introduced within the last month is the new integrated AI tool that will allow you to generate suggested content. Social Marketing Pro starts at just $29.00 per month and offers social media managers a dashboard to manage up to 15 social media accounts. You can contact Clarus Creative to help you get started on Social Marketing Pro and the Business Center Dashboard. [Updated: Clarus Creative offers new customers the Business Center Dashboard free for 30 days to try out its Express Tools].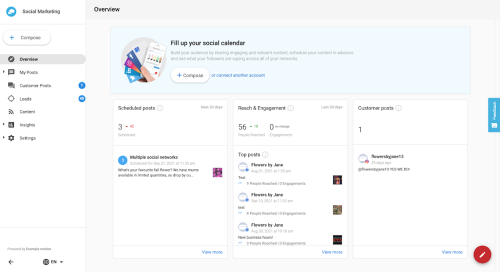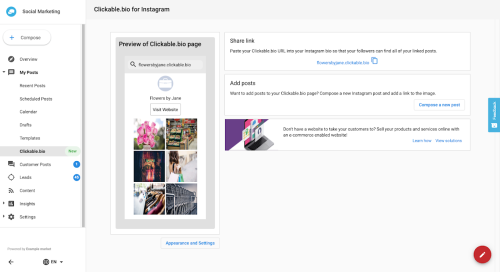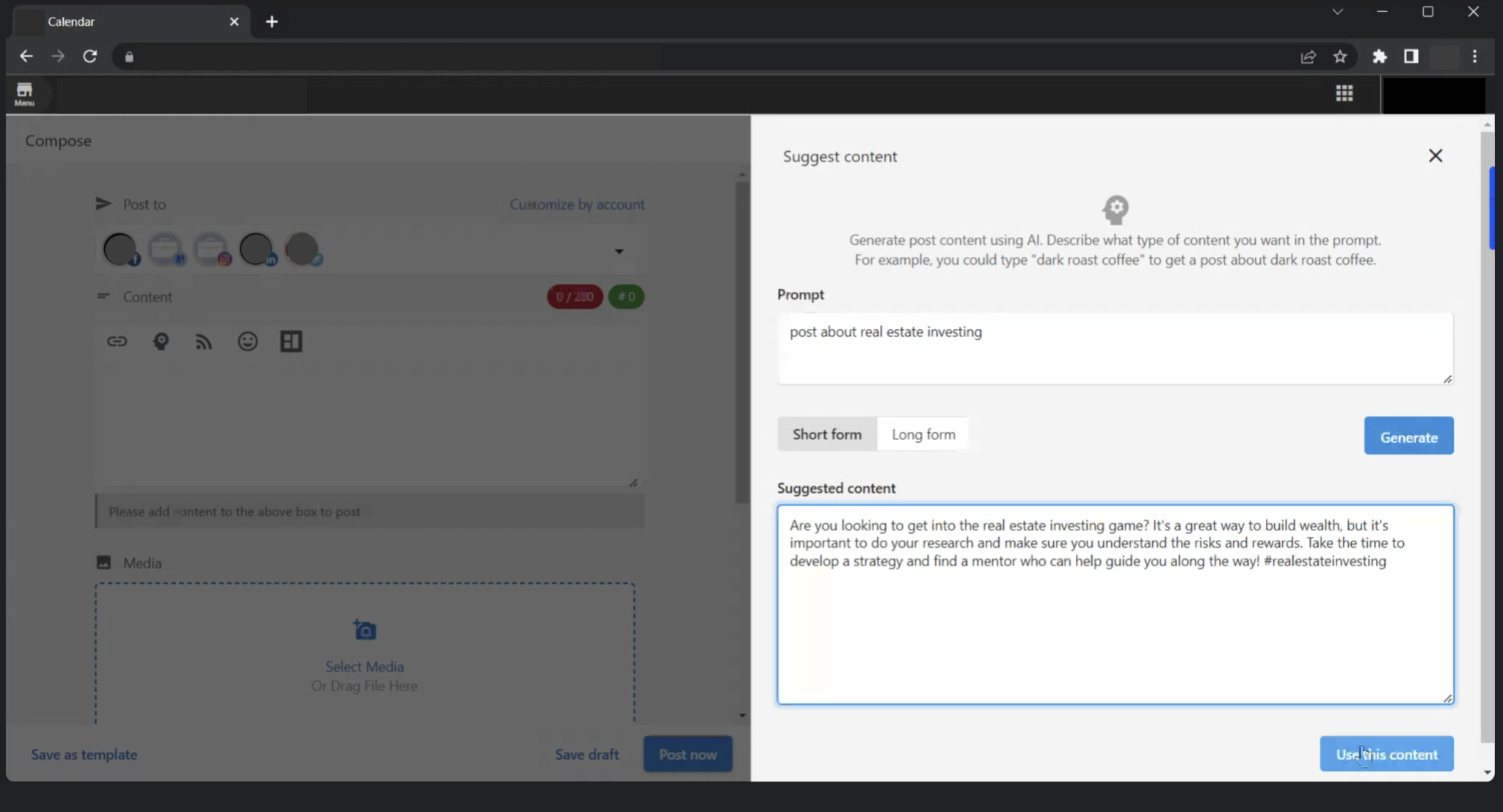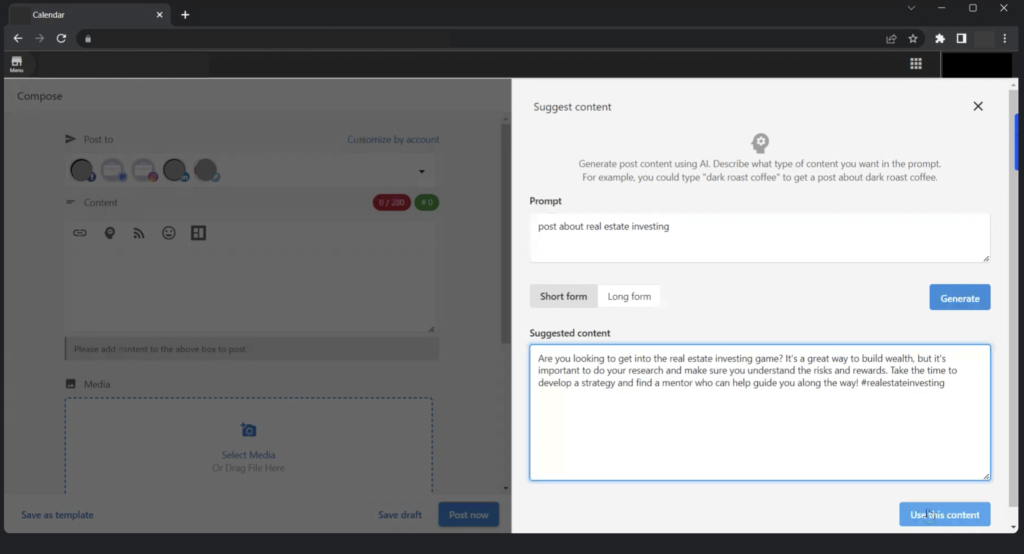 Social Marketing Pro Walkthrough Video
Tool #2 Cloud Campaign - Freelancer Plan
Cloud Campaign Freelancer Plan is a user-friendly platform that helps freelancers manage their campaigns and projects more effectively. With this plan, users can create custom campaigns with multiple channels, track their performance metrics in real-time, and optimize campaigns for maximum results. The tool offers detailed analytics and reports to help users make informed decisions about their campaigns. The best part? Cloud Campaign's Freelancer Plan starts at an affordable $39.00 per month, making it accessible to freelancers, social media consultants, and small businesses who are looking for a budget-friendly solution. This plan allows for unlimited users and up to 7 social media account profiles, making it the perfect option for any freelancer, consultant, or small business who want to streamline their marketing efforts and maximize their campaign success.
Tool #3 Buffer - Essentials Plan
Buffer's Essentials Plan is a cost-effective subscription plan that provides access to all the features and tools available in its Team Plan. For a comparative example, users who manage seven social media accounts will pay, $42.00 per month, with support for Facebook Pages, Twitter profiles, LinkedIn Pages, and Instagram accounts. The Essentials Plan includes features such as post analytics, team collaboration, and a content library, making it an ideal option for small businesses and individuals who are new to social media management. The plan also allows for an easy upgrade to a higher-tier plan should the user's needs evolve. With its comprehensive features and low cost, Buffer's Essentials Plan is an excellent option for those who want to get started with social media management without breaking the bank.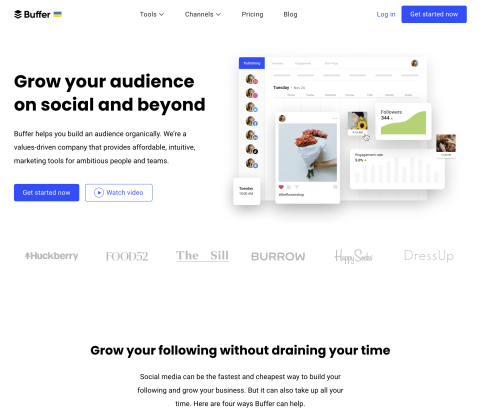 Tool #4 Agora Pulse - Standard Plan
Agora Pulse is an all-in-one social media management platform that can help businesses and organizations monitor, analyze, and optimize their social media campaigns. Its Standard Plan, which starts at $59.00 per month, is designed to meet the needs of small to medium-sized businesses. With the Standard Plan, users can monitor their brand's performance across major social networks, analyze content and competitors, identify industry influencers, and track the success of their campaigns. Overall, Agora Pulse is a powerful platform that offers an affordable solution for businesses to manage their social media presence effectively.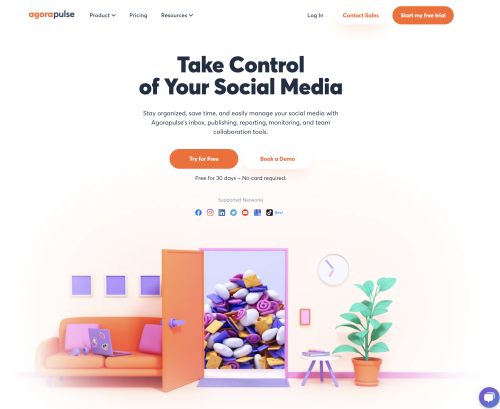 Tool #5 Hey Orca - Basic Plan
Hey Orca's Basic Plan is a robust social media management tool designed to help small businesses and entrepreneurs optimize their social media presence. For just $59.00 per month, users can access an easy-to-use dashboard that streamlines post creation, scheduling, and publishing across multiple social media platforms. The tool also offers in-depth analytics and insights into post performance, enabling users to track engagement and reach. Moreover, Hey Orca's Basic Plan provides a library of content ideas and templates, making it simple to create compelling posts quickly. With its user-friendly interface and comprehensive features, Hey Orca's Basic Plan is an ideal choice for small businesses seeking to enhance their social media presence.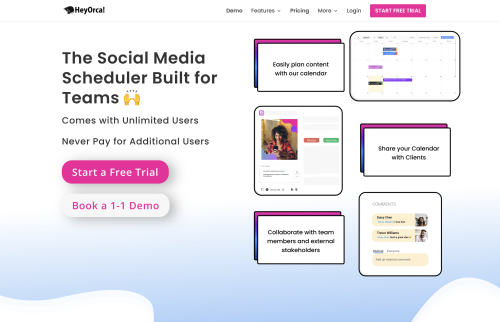 Tool #6 Hootsuite - Professional Plan
Hootsuite's Professional Plan is a comprehensive social media management platform that provides businesses and organizations with the tools they need to maximize their online presence. For $99.00 per month, the Professional Plan allows users to manage multiple social media accounts, schedule posts, monitor conversations, track analytics, and more. Users can manage their social media presence across various networks, including Facebook, Twitter, LinkedIn, Instagram, and YouTube, with ease. The Professional Plan also offers advanced features such as team collaboration, custom analytics reports, and unlimited social profiles. Hootsuite advises its free users to upgrade to one of their other paid tiers as the free plan will no longer be available after March 31, 2023. Overall, Hootsuite's Professional Plan is a powerful platform that can help businesses enhance their social media presence and increase engagement with their target audience.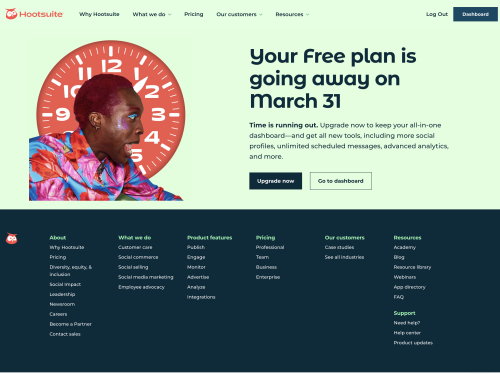 Tool #7 Sprout Social - Standard Plan
Sprout Social's Standard Plan is a powerful social media management solution that offers comprehensive features to help businesses enhance their online presence. It enables users to manage multiple accounts and networks, schedule posts, monitor conversations, and analyze performance. The plan also includes access to Sprout's expert team, who can provide guidance and support on how to use the platform effectively. With their assistance, you can develop a customized strategy that will optimize the results of your campaigns and help you achieve your goals. Sprout Social's Standard Plan is a premium service, and pricing starts at $249.00 per month. By leveraging the platform and expert support, businesses can stay ahead of industry trends and best practices to stay ahead of their competition.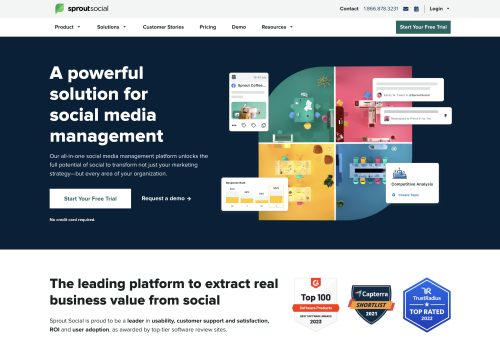 In conclusion, the right social media dashboard can make a huge difference in your business's ability to manage and track its social media presence. Each of the dashboards discussed here has their own unique features that can help you get the most out of your social media efforts.
Clarus Creative, a Colorado Springs Digital Marketing Agency
If you are looking for help managing your personal or business social media accounts, you can contact the team at Clarus Creative to request our social media management services. Our team of experts can help you with various flexible month-to-month social media management plans to help your business increase visibility and drive more customers to your business. Our agency also offers two social media management dashboards, Social Marketing Pro and Cloud Campaign, month-to-month, perfect for freelancers or small businesses. 
Send us a message to request a consultation about your company's social media management needs at claruscreative.co/contact or call us at +1 (719) 347-1176.
You can visit our services page to see a complete list of our creative marketing offerings. We offer advertising, logo design, graphic design, branding, social media management, SEO/SEM, reputation management, listings, website design and development, website maintenance, and more.