Subscribe to our monthly marketing newsletter.
Subscribe To Our Monthly Newsletter
THE CLEAR VIEW is our monthly marketing newsletter delivered to your inbox every first Wednesday of the month.
This marketing newsletter includes company news, strategy, and marketing trends. It's no cost to you to subscribe and it's 100% spam-free. You may unsubscribe whenever you want. But we believe that startups and small businesses will see value in reading this monthly newsletter, and we appreciate if subscribers want to share this newsletter with others.
Once you opt-in to THE CLEAR VIEW newsletter you will receive an email to "Confirm Subscription".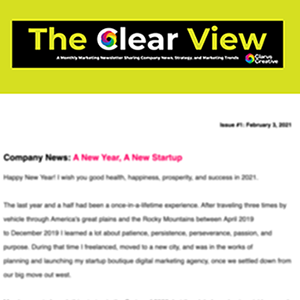 Subscribe to our Newsletter, THE CLEAR VIEW