Do you manage social media channels such as Facebook, Linkedin, or Twitter for your small business or employer? Are you frustrated with sharing content that caches old meta images on your website or content management systems (CMS)? 
In this article, you will find a quick and easy solution to troubleshoot and debug your online content and display all of your updated graphic images and descriptions correctly. Pro Tip: If you are a WordPress website administrator, you can download a free version of the Yoast SEO plugin for WordPress, which will help you update the title and meta descriptions whenever you post a new blog article or update a landing page. If you are a Shopify user, the Yoast SEO app is available to help maintain your do-it-yourself eCommerce SEO.
I updated my website content, but my changes are not showing on social media
You are a busy, multi-tasking, social media marketing rockstar with limited time to research several online resources to determine why your online content isn't updating on your website. For example, you or your in-house graphic designer may have produced a new visual to refresh an outdated landing page or blog post. But after taking the necessary steps to update your graphical images, title tags, and meta descriptions, you realize the content from the backend only shows the old social media snippets for Facebook, Twitter, and or LinkedIn. But you are curious why the recent changes shared on social media are not displaying correctly. Please keep this blog post handy by bookmarking this helpful step-by-step guide to help update all of your social media summary cards for shared link previews.
What is a social media summary card?
A summary card preview is what displays on a social media platform to show a brief social snippet that describes the content and the image of your post. Previewing the correct display of these summary cards can help make your social media content more engaging.
#1 How to Clear Facebook Cache with the Sharing Debugger Tool
Facebook for Developers or "Meta for Developers" has a Sharing Debugger tool to clear your Facebook cache. This tool will help pull open graph website data when you share on Facebook, Messenger, and WhatsApp.
To access the Sharing Debugger tool, click this link to visit the Meta for Developers page. Next, enter the desired URL to clear your Facebook cache. For example, I listed my email newsletter opt-in page to remove my recent website content changes with my new email newsletter image asset. Once you have a URL typed into the box, click the Debug button.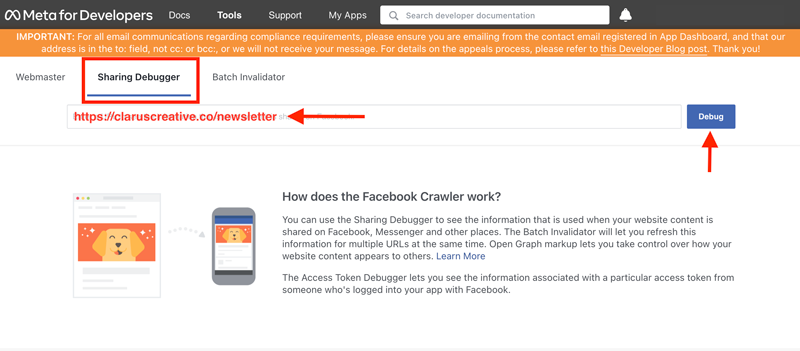 The Facebook Sharing Debugger tool will pull all of the information stored in the cache for the URL you submitted to debug. If there are any warnings to report, it will display when Facebook previously scraped this URL. If the information shown in the link preview is still outdated, click the "Scrape Again" button to force the social media engine to reanalyze the data.

There is also an option to clear your Facebook cache for multiple links at once. To initiate caching for more than one URL, click on the Batch Invalidator tool to update multiple links. You can copy and paste a space-delimited list of URLs in the box provided. Repeat the process for as many links you want to debug. 
#2 How to Clear Twitter Cache using the Card Validator Tool
Twitter also provides a similar tool that clears out your sharing cache for a URL previously shared online before.
To access the Twitter Card Validator tool, enter the URL of your website page or blog post's URL and click the Preview Card button.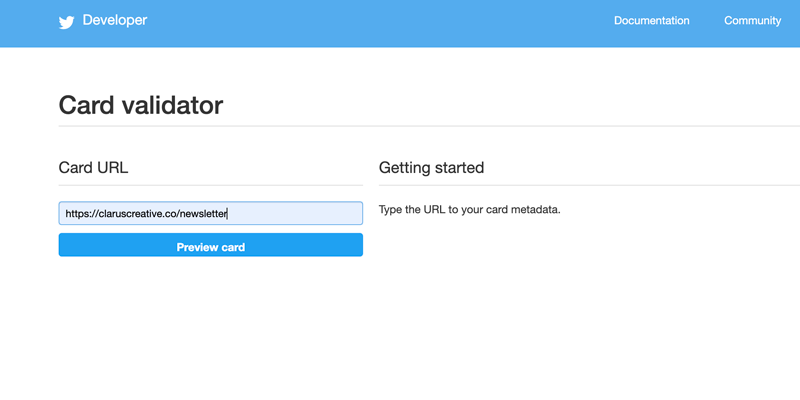 Submitting your URL will help clear the Twitter cache and outdated data and repopulate a new summary card with your updated information.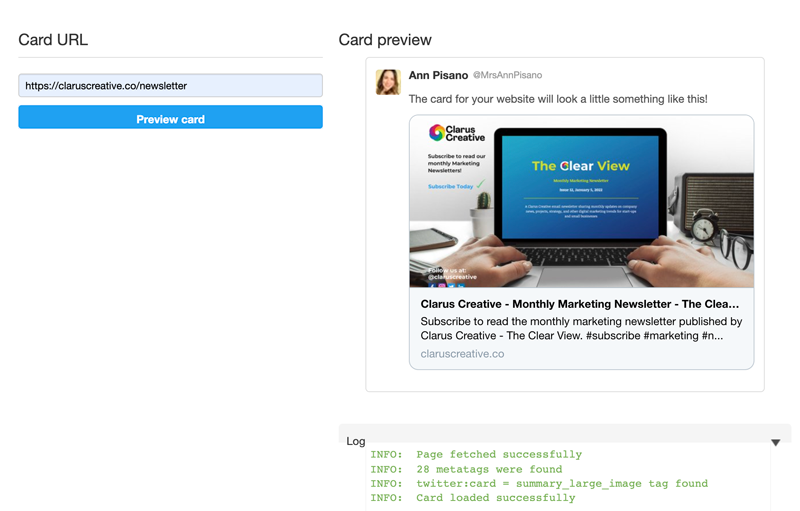 The information listed in green shown in the "Log" is all of your URL's metadata. Twitter's Card Validator tool will notify you of any issues within the open graph data.
#3 How to Clear LinkedIn Cache via the Post Inspector Tool
Last but not least, LinkedIn also provides you with a caching tool for your previous posts. Visit the LinkedIn Post Inspector tool page to inspect a URL. This tool is almost identical to the Facebook Sharing Debugger and Twitter's Card Validator tool and can clear out your social sharing cache on LinkedIn.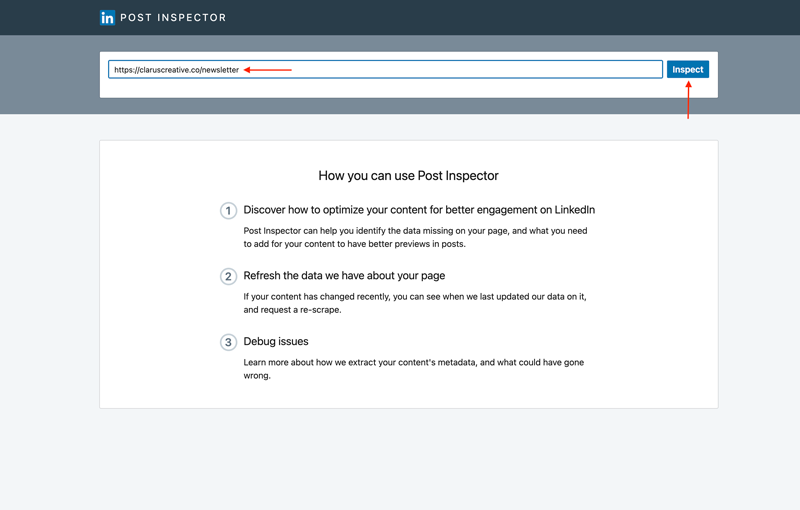 Let's review the site data information scraped from the LinkedIn caching tool. Once the cache has cleared, you will see a new preview of how the updated summary card will look.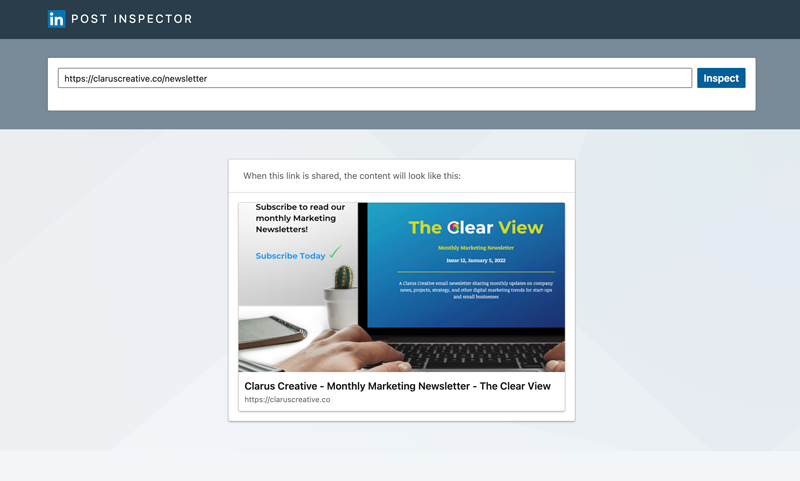 If you like how the image and description display your metadata on LinkedIn, then proceed to publish from your preferred social media management platform or post directly from your LinkedIn personal feed or company admin page. But if you need to make any adjustments to your graphic image, make your changes on the backend, publish your website page, and resubmit the URL in the LinkedIn Post Inspector form.
You can also review all of the open graph tags from this tool such as title, type, and description. But unlike Facebook and Twitter, you can click on any of the listed properties within the tool to learn more about how the value was selected and read LinkedIn's suggestions to help optimize and improve SEO on your page or blog post.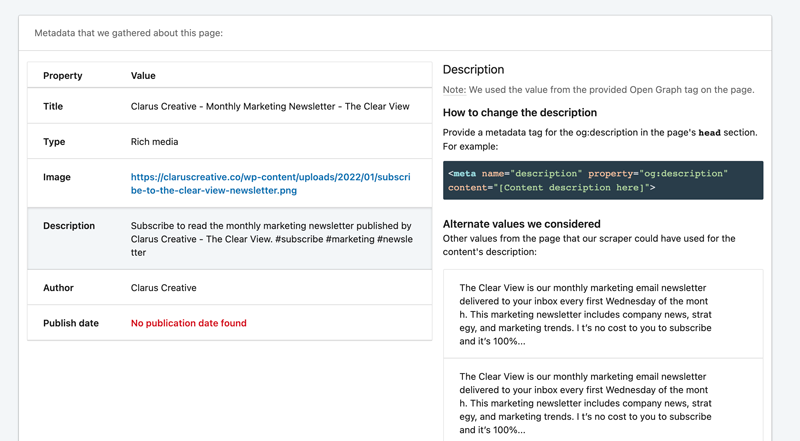 You can skip using Hootsuite to optimize your social media post because you can use this free LinkedIn tool to help optimize your post to rank higher on Google. Remember to bookmark this how-to guide in your browser for future reference.
If you have to update a website page or blog post with a new image graphic or new website copy, please remember to submit your URL through these free caching tools provided by Facebook, Twitter, and LinkedIn. You will not regret learning about this helpful website content marketing skill of caching your pages. Share your thoughts in the comments below.