So what is branding? And why is it so essential for your business? Branding performs more than just a logo or graphic element. When you think about your brand, you want to think about the complete customer experience; everything from your logo, your website, the way you answer the phone, to how your staff interacts with your customers. In short, your brand is the way your customer sees you. It is essential to be aware of your brand exposure and plan to build the brand experience you want to have; a good brand doesn't just happen; it is a well-thought-out and strategic plan.
Clarus Creative is a boutique digital marketing and creative agency located in Colorado Springs, Colorado. Ann Pisano, Founder and Creative Director, has 20+ years of experience as a multimedia graphics artist and specializes in digital marketing. They provide clients with both creative and digital marketing services. Their digital marketing boutique offers website design, website development, website maintenance services, search engine optimization, logo design, branding, advertising, email marketing, social media marketing, and social media management services.
They recently recorded their first review on Clutch, a B2B ratings and reviews platform, with a 5-star rating to boot. HireRoos, a legal staffing company, wanted branding and general marketing services. Clarus Creative provided social media presence improvement and managed their Google My Business account. The team also worked on developing their website and improving their overall web presence through keyword research and implementation.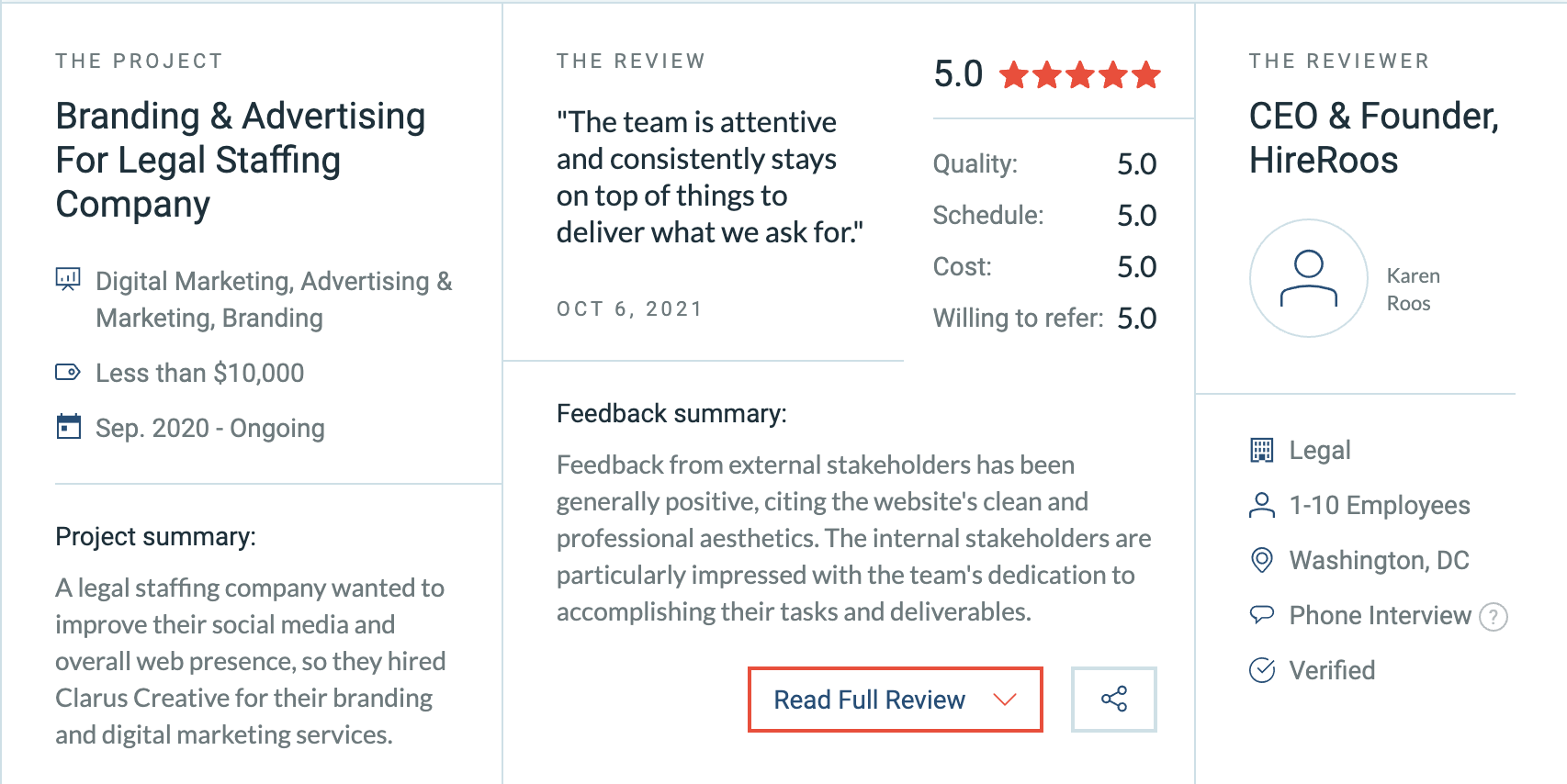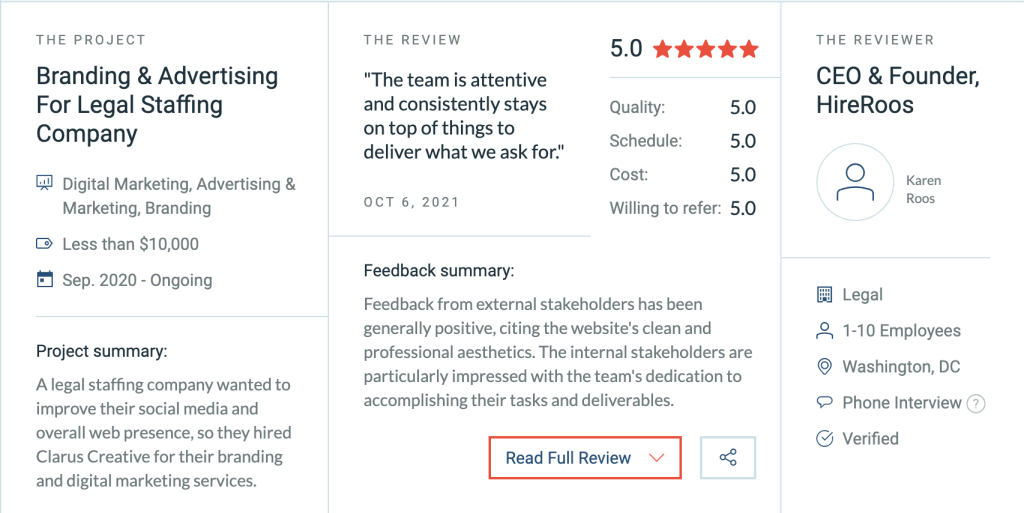 Here's what they have to say about working with Clarus Creative: "The feedback I get regarding my website and online presence has been generally positive. People say that my branding looks very professional and clean." – Karen Roos, CEO & Founder, HireRoos
Aside from that beautiful feedback, Clarus Creative is also featured on Clutch's sister site, Top Design Firms, as one of the leading digital marketing agencies. Top Design Firms compiles and organizes the best companies around the world offering marketing, design, and development services. It aims to help buyers find the right company for their project.
"It's always a fantastic feeling to receive such excellent feedback from our satisfied clients. At Clarus Creative, we appreciate everyone who entrusted us with their ideas and their endeavors." – Ann Pisano, Founder & Creative Director, Clarus Creative
Ready to work with Clarus Creative? Please fill out the contact form to get a marketing project started.