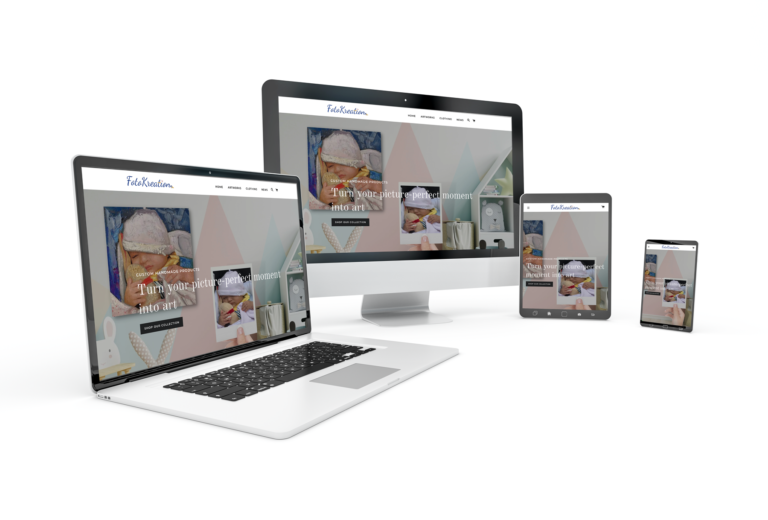 Website Redesign for FotoKreation
We successfully redesigned the Shopify eCommerce website for the two co-founders of FotoKreation, an online store that offers handmade keepsakes. These keepsakes include a range of custom artwork such as oil paintings, lacquer paintings, hand embroidery, and custom clothing items like blazers, dresses, and two-piece suits.
In addition to the website redesign, we provided a comprehensive suite of digital marketing services to enhance FotoKreation's online presence. These services included search engine optimization (SEO), blog writing, press releases, list building, video marketing consulting, social media asset creation, marketing, and management for their five social media accounts. By leveraging these strategies, we aimed to optimize the visibility of FotoKreation's products and engage with their target audience effectively.
The newly redesigned website is fully responsive and optimized for viewing on tablets and mobile smartphones. This ensures that visitors can easily access and navigate the website, regardless of their device.
Our website redesign for FotoKreation showcases their exquisite handmade keepsakes and custom clothing items. Focusing on enhancing the user experience and driving online visibility, we provided various digital marketing services to expand their reach. The website's responsive design ensures seamless access and engagement on tablets and mobile smartphones. Through our collaborative efforts, we aimed to position FotoKreation as a leading platform for unique and personalized artistic creations and clothing items while effectively promoting their offerings through various digital marketing channels.
Please get in touch with us for pricing on e-commerce website projects.