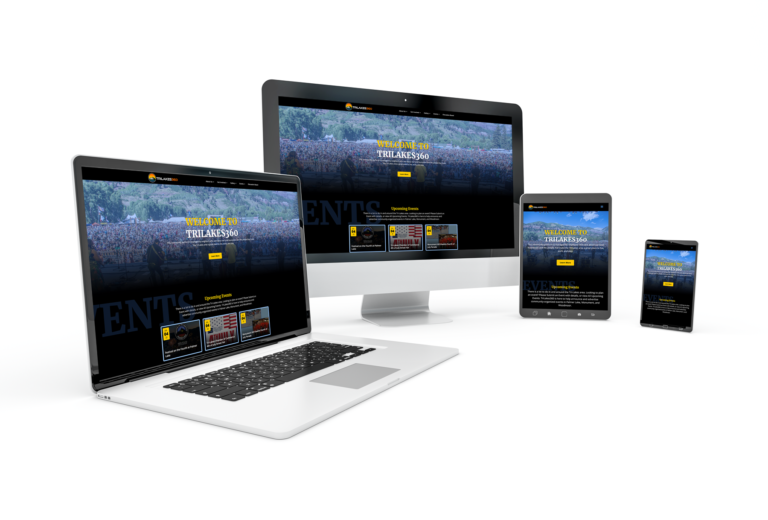 Website Design for TriLakes360
We have provided the Colorado Tri-Lakes community with an impressive 15-page WordPress website design known as TriLakes360. This community platform serves as a hub for advertising local businesses in the picturesque Colorado Tri-Lakes area and promoting various events.
At Clarus Creative, we have actively co-handled the marketing partnership with the Festival on the Fourth at Palmer Lake event for the past two years. Our comprehensive marketing services include event and t-shirt logo design for the Festival on the Fourth at Palmer Lake, creation and management of social media accounts, social media marketing, and asset creation. We have utilized Facebook event advertising and Facebook Ads to reach the target audience effectively. Furthermore, our expertise extends to HubSpot CRM management, enabling efficient customer relationship management for enhanced business operations.
In addition to our digital marketing efforts, we have provided outstanding graphic design services, creating visually appealing signage, banners, posters, trifold brochures, rack cards, parking passes, and lanyards. These collateral materials have successfully complemented the marketing initiatives, ensuring a cohesive and impactful brand presence.
Our partnership with the Palmer Lake Fireworks (Awake Palmer Lake) nonprofit has been instrumental in organizing and recruiting sponsors, vendors, and donation support for funding the Fireworks event. The dedicated efforts of volunteers have been invaluable in making the event a resounding success, fostering a strong sense of community engagement and celebration.
Our website design for TriLakes360 is an excellent platform for promoting local businesses and events in the Colorado Tri-Lakes area. Through our active involvement in marketing partnerships, including the Festival on the Fourth at Palmer Lake, we have provided various services encompassing logo design, social media management, advertising, CRM management, and compelling graphic design. Our collaboration with the Palmer Lake Fireworks nonprofit exemplifies our commitment to community involvement and supporting local events.
Please contact us for pricing on our 10-page website projects.