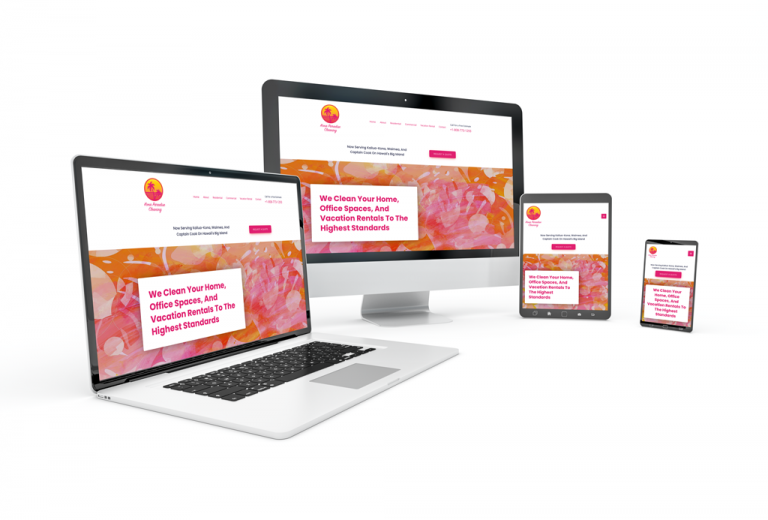 Website Design for Kona Paradise Cleaning
We designed and developed a responsive business website for Kona Paradise Cleaning, a premier cleaning service located in Kailua Kona, Hawaii. The website comprises six pages and was created using the Elementor Pro builder and a custom Astra Theme. It is fully responsive, compatible with desktops/laptops, mobile smartphones, and tablets.
The Kona Paradise Cleaning website features essential pages, including Home, About, Residential Cleaning Services, Commercial Cleaning Services, Vacation Rental Cleaning Services, Contact form page, and contact call-to-action buttons. It also includes an informational COVID-19 notice. Serving Kailua-Kona, Waimea, and Captain Cook on Hawaii's Big Island, this startup client delivers exceptional cleaning services to residential and commercial clients.
The website's design showcases Kona Paradise Cleaning's professionalism and commitment. The Residential Cleaning Services page outlines their comprehensive offerings, while the Commercial Cleaning Services page focuses on tailored solutions for businesses. Additionally, the Vacation Rental Cleaning Services page highlights their expertise in serving property owners in the vacation rental industry.
In summary, our website design for Kona Paradise Cleaning reflects their dedication to delivering top-notch cleaning services. The responsive design, built with Elementor Pro and a custom Astra Theme, ensures an excellent user experience on different devices. The informative COVID-19 notice and well-crafted pages, along with convenient contact buttons, facilitate seamless navigation. Kona Paradise Cleaning's website serves as a valuable resource for residents and businesses in Kailua Kona, Waimea, and Captain Cook, emphasizing their expertise and commitment to customer satisfaction.
Please contact us for pricing on our six-page web design projects.