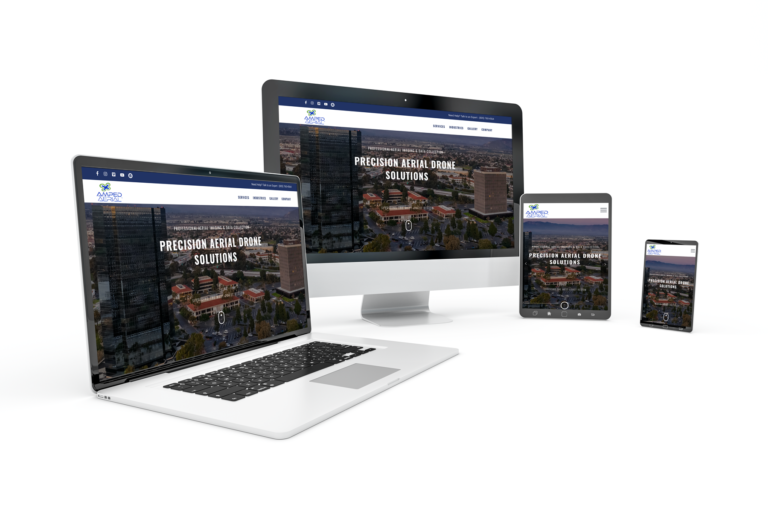 Website Design for Amped Aerial
We embarked on a website redesign project for Amped Aerial, a prominent aerial photography service provider on the west coast. Our team created an impressive, brand-new 12-page website design tailored specifically to meet the needs of aerial photographers in this region. We carefully developed the website's structure to cater to diverse industries and service types, ensuring its versatility and ability to effectively serve a wide range of clients.
Our comprehensive redesign incorporates essential features that greatly enhance the user experience. We seamlessly integrated a user-friendly contact form, making it effortless for visitors to connect with Amped Aerial. The gallery section showcases a captivating array of visuals, providing a glimpse into the exceptional aerial photography work carried out by the company. Additionally, we embedded captivating content such as 3D scans, photos, and virtual tours, allowing visitors to immerse themselves in the captivating world of aerial photography and fostering an engaging and interactive browsing experience.
Recognizing the significance of a strong social media presence, we designed a custom social media link banner icon exclusively for Amped Aerial's Sketchfab account. This thoughtful addition enhances the website's visual appeal and encourages visitors to seamlessly explore Amped Aerial's portfolio and engage with their social media content.
Our redesigned website for Amped Aerial boasts a responsive design, ensuring seamless access and navigation on various devices, including tablets and mobile smartphones. This guarantees that potential clients can effortlessly explore the website's content, regardless of their preferred browsing platform.
In conclusion, our website redesign for Amped Aerial demonstrates our commitment to delivering exceptional digital experiences. With its visually striking design, carefully crafted structure, and crucial features such as a user-friendly contact form, an impressive gallery, embedded content, and a custom social media link banner icon, our comprehensive online platform positions Amped Aerial as a leading provider of aerial photography services. Furthermore, the website's responsive design enhances Amped Aerial's online presence, fostering meaningful connections with clients and ensuring accessibility and optimal viewing experiences across different devices.
Please contact us for pricing on our 12-page website design projects.