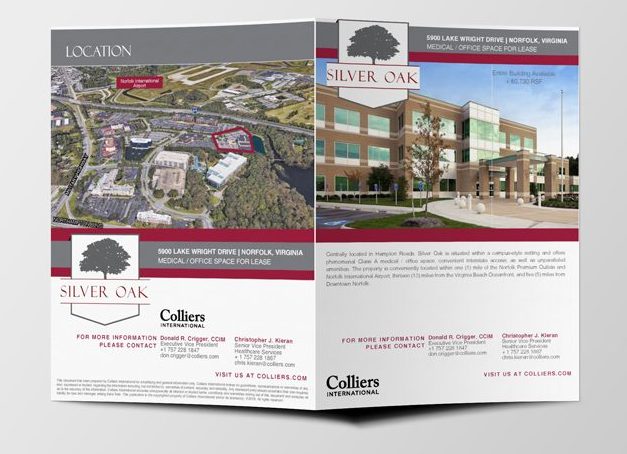 Silver Oak Brochure and Brand Logo
This 4-page brochure and brand logo were custom designed for the owners of Silver Oak, a Class A Medical Office building available for lease in Norfolk, VA. Leveraging our expertise in Adobe InDesign, we meticulously crafted a bi-fold brochure that exudes sophistication and professionalism while showcasing the property's premium features.
Working closely with the owners of Silver Oak, we incorporated essential copy, striking professional photography, and detailed floor plans into the design. Our Creative Director, Ann Pisano, played a pivotal role in infusing the brochure with elegance, creating a custom map, and seamlessly integrating the Silver Oak logo to reinforce the building's brand identity.
The brochure's layout was thoughtfully organized to present crucial details about the property's amenities, leasing options, and strategic location in Norfolk Virginia. We ensured a harmonious balance between visual appeal and functionality, making it a valuable asset for both the leasing team and potential tenants. With this brochure as a testament to our dedication and design excellence, we are confident that it will attract discerning medical professionals to lease space in Silver Oak, setting new standards in the medical community in Hampton Roads.
Please contact us for pricing on our 4-page brochures.